"We have a clear position - we will not do business
on the shoulders of people or the planet."
This is what I have been communicating since my first day as Toyota Material Handling Europe's CEO - on April 1 2020, just as countries in Europe were entering COVID-19 lockdowns.
Since then, we have been experiencing numerous challenges such as supply chain disruption, massive increase of energy cost, labour shortage, clear threat of climate change.
We have been working closely together with employees, suppliers, customers, all our stakeholders to find a solution to these challenges. At Toyota Material Handling, we are supported by our guiding principle, Toyota Precepts and the company philosophy. If I go back in time, to revisit the spirit of our founder, Sakichi Toyoda. He had a strong ambition to contribute to society.
Collaborating to ramp up climate action
The commitment and resilience of our colleagues connected us even more strongly to our shared purpose, where sustainability is at the core. Some of our proudest achievements - moving to 100% renewable electricity across all our locations, attaining a platinum rating from EcoVadis for the fourth year running and achieving net zero emissions at our Swedish factory - have occurred in recent years.
In fact, our sustainability journey began earlier. Following dialogue with external and internal stakeholders in 2012, we developed our first targets - updated in 2017 after a second round of consultations.
Since then, our revenue has doubled - while our emissions reduced by 29% in the same time period. With policies such as the EU Green Deal focused on transforming the European economy, we need to continue embracing sustainability - in all its dimensions - to remain financially sustainable.
Learning from our partners and bringing together experts
However, we cannot continue on this path alone - we need to collaborate with our customers, suppliers, business partners, employees and other stakeholders to ramp up climate action and continue reducing carbon emissions throughout the entire value chain.
Through our partnership with the European Agency for Safety and Health at Work (EU-OSHA) and EcoVadis, we aim to accelerate the transition to a sustainable economy together.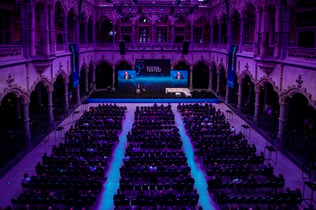 Our LOGICONOMI forum, a platform to meet like-minded experts, has been organised bi-annually since 2018. Last September in Antwerp, we met over 500 professionals to exchange innovative ideas and challenges - energy and sustainability was one of the main themes during the conference.
I am also proud of the Toyota Logistic Design Competition, a biannual competition started in 2014, which encourages design students worldwide to take an interest in creatively improving the world of logistics. It is exciting and inspiring to see high level of innovative ideas from young, talented people.
We've joined the United Nations' Race To Zero campaign to accelerate global decarbonisation and have committed to publish and communicate on our science-based targets, which provide us with a clear path to reduce emissions and put us on the most ambitious Paris Agreement scenario.
We have also invited suppliers to start their carbon reduction journey using EcoVadis and are engaging them to help us develop a life-cycle analysis of our products to further understand our impact.
Future plans
Our latest sustainability report formed the basis of our third round of stakeholder dialogue, which will help set our targets for the next decade. These will focus on Climate Change, Circularity, Health & Safety and Wellbeing as well as Diversity, Equity and Inclusion.
We want to be part of the solution to the global climate crisis and the other sustainability challenges facing society.
As we look towards a post-pandemic future, there is a long way to go - but we will go further and faster, when we all work together. Every colleague contributes to a sustainability culture that encourages real innovation and change. Our next 10 years' journey is just starting and so I hope you'll join us on the path to net zero.