Do you know exactly how many hours your trucks spend driving around the warehouse, or how much energy they are consuming? Or have you measured how much downtime the trucks in your operations are experiencing?
There's an easy way to know how your forklifts are doing and to improve efficiency, productivity and safety: connect your smart trucks to "I_Site".
It's best practice to keep track of your trucks' vital statistics and their machine hours. An accurate performance profile based on data of each forklift will pinpoint irregularities. The information from your records will help to minimise downtime, save you from hassles, achieve optimum performance, reduce repair costs, and lower the truck's carbon footprint.
Helping customers reach sustainability goals
As both a manufacturer and a solutions provider, we strive for improvements in energy usage across our product range and in how our customers can optimise their consumption - and overall environmental impact.
At Toyota we are taking the lead in the industry, with smart trucks as a standard - because we want to offer you trucks and tools to manage lean operations. Ultimately, we want to help our customers maximise health and safety & minimise environmental impact and enable them to become more efficient at the same time. Irrespective of the scale of your business, our smart truck solutions have valuable advantages that cater to both large corporations and small-scale enterprises alike.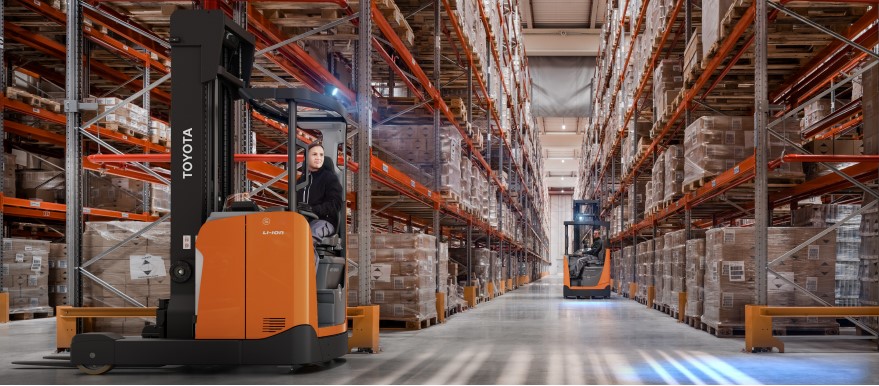 Since 2018, warehouse trucks ordered from Toyota Material Handling are delivered with integrated telematics that provide an easy overview of the actual operating performance of each of the smart trucks in your fleet. Collecting online data through the I_Site, the performance of smart trucks is measured, analysed and maximised.
Using Toyota's I_Site fleet management helps minimise the need for service. As smart trucks' performance rate and battery lifespan can be optimised, while resources are also freed, and CO2 emissions reduced. As companies worldwide face stricter requirements to live up to and are obliged to disclose sustainability measures, I_Site fleet management is a useful tool for businesses focused on their environmental, social and governance (ESG)-related issues.
Using batteries more efficiently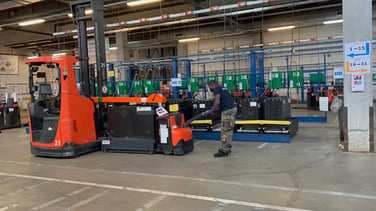 By connecting your smart forklift trucks, you can automatically monitor battery charging cycles via I_Site. Kuehne + Nagel Logistics, one of the world's leading logistics companies, saved costs and reduced their environmental impact through I_Site's battery management system. Analysis showed they had too many changing tables and spare batteries on hand. Thanks to the fleet management data, they were able to bring down the number of batteries, meaning they could completely reorganise the battery room and consequently reduce the environmental impact.
The smart monitoring opportunities of I_Site also enable you to minimise waste in your operations, improve the overall efficiency of your material handling equipment, and extend the product lifespan of your entire fleet. You can also track your truck's operating hours to know the facts and schedule routine maintenance at exactly the right time, cutting down waste in terms of service time and cost. For maximum uptime of your equipment, you can easily contact your service team with the app.
Improving health & safety outcome
Dagrofa Logistik - Denmark's largest logistics and sales company - introduced I_Site Explorer to their fleet with great results. The damage rate on trucks dropped from 14% in 2018 to 3.2% in 2021 and the company expects the trend to continue.
Injuries have been prevented thanks to fleet data and Dagrofa Logistik has seen significantly less damage to trucks, racks, and gates, including so-called 'hidden damages' which were not recorded previously. This means that everything gets repaired quickly and, as a result, equipment lasts longer.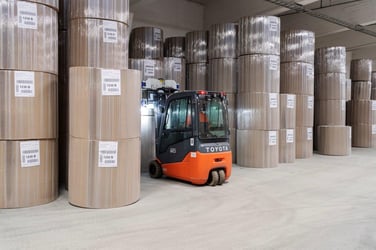 Adara Pakkhaus - a packaging SME based in Finland - has also seen health & safety improvements thanks to I_Site's data collection on shocks. The impact data informed them of drivers' training expiry and enabled better fleet monitoring.
Connect with I_Site today
Whether you only use one truck or have a big fleet of forklift trucks across multiple sites worldwide, you can easily connect with I_Site.
You'll get access to the right information allowing you to be in total control of your operations, and to take action remotely if required.
The I_Site fleet management system is a powerful tool that allows for continuous improvement, drives culture change, and improves health & safety. Contact us to find out how I_Site fleet management can become an essential tool to navigate your sustainability journey successfully.