Trends in society, expectations from consumers, changing legislation and, of course, new technologies continuously impact our businesses.
The challenge for Logistics Managers today is how to keep up with all the changes and the opportunities available and keep track of what the competition is doing.
To help monitor what's going on, Toyota Material Handling Europe produces an annual trend report. Hans Larsson, Director of Strategic Innovation, talks about the 2023 edition in the latest episode of our Logiconomi TV series.
Some background
Hans Larsson starts off by going back to the very beginning. A few years ago, his team developed what they call a strategic radar. It's a tool that enables them to map all of the trends and technologies that they uncover through collaboration and discussions with institutes, universities, and industry networks.
Each subject is plotted on the radar according to the level of impact it is likely to have on the logistics industry, and also the timeframe - in other words if it has short, medium or longer-term implications.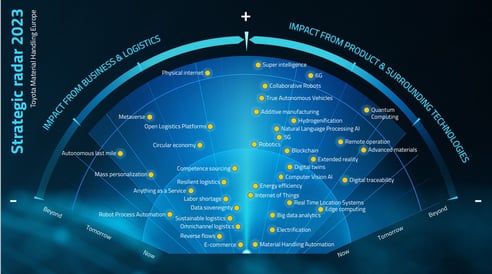 The radar is of course continuously changing, but once a year the objective is to take a snapshot view to identify the key trends that Toyota's Strategic Innovation believes to be most relevant. It's not an exact science, and it involves a degree of judgement, but it provides a useful starting point for people to work with.
2023 Trend report headlines
According to the European Central Bank the overall European economy is showing some slowdown in the aftermath of the pandemic, and due to the ongoing situation in Ukraine. Gross domestic product (GDP) is at a relatively low level right now, and we have been in a period of inflationary pressure, although inflation is expected to drop down again in the coming months.
Impact will vary from sector to sector. Ordinarily, you would expect a drop in activity levels as a result of economic downturn, but due to shortages of supplies during the pandemic, many areas struggle with a backlog of orders, which will keep activity levels up for a while at least.
There are many factors driving the importance of sustainability in business. First of all, the EU Green deal has determined targets to reduce greenhouse gas emissions in the transport sector of 90% by 2050. This is being reinforced with initiatives at both national and European levels.
But arguably, even greater pressure is coming from consumers, who are showing increasing awareness of environmental issues. This is causing retailers to demonstrate their green credentials, which in turn has an impact on the entire supply chain, with requirements for sustainability reporting.
When it comes to CO2 emissions, it is driving a clear trend towards electrification - but not only for internal equipment like forklifts - also for road transport, and this will have significant implications over the coming years as demands rise for charging infrastructure across the road network and on companies' own premises. For this level of electrification, there is a need to increase the capacity of renewable electricity.
It's not just about energy and emissions. There is also a big push to eliminate waste in logistics operations. That means avoiding damaged goods, focussing on recycling, shrinking return flows, and - of course - looking after people, so focal point being safety in operations.
Watch a short teaser of the latest Logiconomi TV series
E-commerce is continuing to grow. This challenges many retailers that are having to manage two different types of businesses simultaneously, feeding retail stores and also making direct shipments to consumers. Major players like Amazon are setting the standard here in terms of response times and reliability.
In e-commerce, you are dealing with individual items instead of pallet loads, so finding smart ways to manage the order picking process is key.
The labour market under pressure
This change in consumer behaviour links to another key subject in this year's report which is the so-called war-for-talent. The pandemic has had quite an effect on the workforce, with many people changing roles or leaving the workplace completely. This is making recruitment a major challenge for many businesses.
When it comes to order picking, which has traditionally been very labour-intensive, there is a clear shift towards automation - with the goods-to-person concept picking up steam, rather than sending people out on picking runs.
Furthermore, we definitely see a shift in skill demands. The growth of automation means demand for unskilled labour is dropping and people with IT skills are highly sought after. Due to the competitiveness in the labour market, expectations in terms of benefit packages are much higher than before.
Technology: complexity versus simplicity
Pressure on the labour market combined with the rise of e-commerce is driving many companies towards more automation, and - importantly – feeds the desire to be more resilient, having experienced the impact of the pandemic.
For fully integrated solutions the technology can still be very complex, but smaller islands of automation can be much simpler. Artificial intelligence, for example, brings new opportunities. In logistics it can already be applied in many ways, like route planning and sequencing in warehouses to reduce travel distances for instance. Certain algorithms can predict future demand to help with planning.
Computer vision is widely deployed today using cameras for navigation and inventory control - and AI is being used in service support by monitoring the usage and behavioural patterns of equipment.
Connectivity is another key area where we see a number of clear trends in this field. There are new communication platforms like 5G, WiFi 6 and the latest Bluetooth standards, and the use of low-cost sensors to collect and manage data. Subjects like blockchain, data sovereignty and analytical tools are also touched upon in the trend report.
Trend radar 2023
Hans Larsson concludes by mentioning that the report tries to cover as many topics as possible, based on how relevant they are in the world of logistics, without going into too much detail. The authors simply want to alert readers. Alertness helps us take thought-out decisions, and more importantly, allows us to better advise and support our customers.