Our fleet management solution, I_Site, was launched more than 10 years ago, but we have been working with truck telematics even longer: since 2001. Here, Hans Larsson (TMHE Director Strategic Innovation), Fredrik Baeza (TMHE Product Management Connectivity) and Axel Wahle (TMHE Director Digital business & Connectivity) tell us what they have learned from 20 years of building truck connectivity technology, and how they're using their insights to improve the experience for customers today.
Tell us about how you got started with telematics.
Hans: We set up our first connected forklift in 2001, getting it up and running at our manufacturing site in Sweden. It was immediately quite exciting. We saw the data the truck generated, and understood there and then how powerful it was, for us and for our customers.
A few years later, the first connected trucks were ready for 'real' operations at a Swedish retail customer. By 2007, we had grown enough to develop a dedicated platform for our connected trucks, and I_Site was born. Since then, the telematics team has been continuously improving our fleet management solution.
Perhaps the best part is that the advancement of telematics is not finished yet. There are emerging developments and trends in the world of connectivity, which I'm following closely. Technologies such as 5G open up new opportunities – it's tremendously exciting.
What can I_Site do for customers today?
Fredrik: If fleet managers want to make improvements in areas such as safety, productivity or operational costs, they need to know where to start and what factors to look at. Real-time data is the most powerful tool for giving you the answers to these questions – and our I_Site system generates that data. Sensors transfer input via our on-truck data handling unit to a web portal. There, the customer can easily consult dashboards and charts that indicate bottlenecks or areas for improvement.
Without data, no measurement. Without measurement, no improvement.
On top of that, these days we are, of course, working more remotely than before. I_Site supports that shift in work patterns – it gives site managers the insights they need to ensure efficient and safe operations, even if they are not physically present.
Why have you made telematics standard rather than optional?
Axel: In the last few years, we made significant steps forward with the technology, using elements of Industry 4.0 to fully integrate telematics across our fleet. Now, we view this as integral to our strategy and to the future of operations.
As a result of our full commitment to telematics, we now have over 160,000 trucks connected to cloud across the globe. All of them are generating data that can be used to improve productivity, boost sustainability, and optimise the cost of operation. Data at this scale is a huge asset for customers and for future-proofing industries as a whole.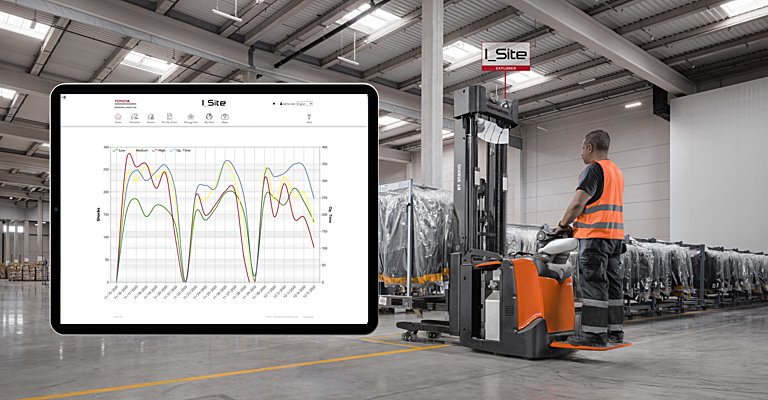 What does the future hold for truck fleet telematics?
Axel: It is growing, fast. More and more customers want to drive their decisions with data, using facts to support their decision-making. As the user base grows, so will I_Site.
In fact, connectivity has a wide range of roles. It is also used for error diagnostics, for sending messages to the truck, or to support a preventive maintenance routine that reduces downtime in working hours, rather than performing maintenance according to a fixed schedule.
Sven: In this respect, by integrating our service tool, T-Stream, with our connected smart trucks, it allows us also to explore possibilities to continuously adapt our service offer and efficiency. Preventive maintenance is one of our main goals.
Axel: Our big focus is on developing our hardware and software to improve truck-to-cloud connectivity, in terms of volume and speed. We are also building our capabilities in cloud-to-machine communication – such as sending software updates – as well as machine-to-machine and even machine-to-human connectivity.
Customer interface is another topic where we are constantly innovating. We are always looking for ways to offer easier data access, with more insights and ways to manage not just the forklift truck fleet but also the whole customer relationship, from initial sales through to daily operational service and benchmarks.
There are many avenues to follow and opportunities to explore. Standing still is not an option.
Watch the interview with Sven Kruizenga, Head of Connectivity, at the HMI 2021 digital event: