If you see the need to store more goods in your operation, whether on the floor or in racking, you may want to consider a stacker for your internal goods movements. Just like manual or electric powered pallet trucks they can come in small and manoeuvrable sizes. For higher and more productive lifting, you should look into high-performance stacker solutions. Let us walk you through the different stacker types.
Manual will do: manual and semi-electric stackers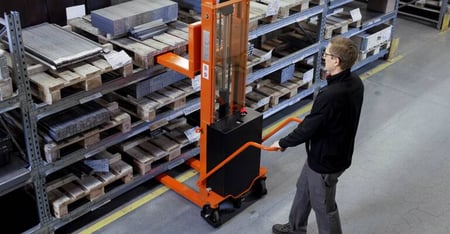 Manual stackers are ideal for basic stacking applications and tight work areas. These are simple but capable manual trucks for stocking and retrieving loads from shelving and racking in smaller, low-intensity applications.
Electric power to make tasks more ergonomic: simple pedestrian powered stackers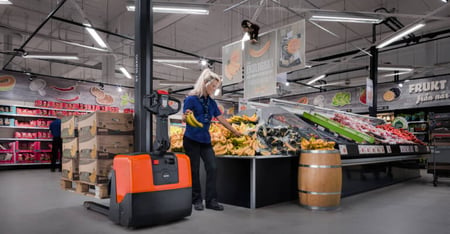 For small storage spaces that require stacking capabilities, simple and light pallet stackers such as the Toyota BT Staxio HWE100 and HWE100S can be a good solution when stepping up from a manual stacker. It's ideal for light-duty goods handling in any type of shop or small warehouse, as they have a light weight and compact design for easy use in confined spaces and mezzanine floors. The HWE100 model can also be used as worktable, making tasks easier and more ergonomical.
For more demanding stacking applications: electric walkie pallet stackers
Designed for light to heavy-duty stacking operations, pedestrian stackers demonstrate versatility with their safe, durable and compact design. The trucks are designed to let the operator get on with the job, safely and easily. They provide essential lifting power in warehouses and retail premises, where safety and manoeuvrability are particularly important. These models offer increased efficiency and performance during horizontal transport, order picking and lifting onto high racking. All models are available with traditional lead-acid batteries or lithium-ion battery technology. The latter allows for efficient and clean operation, and fast opportunity charging to keep productivity high throughout the shift.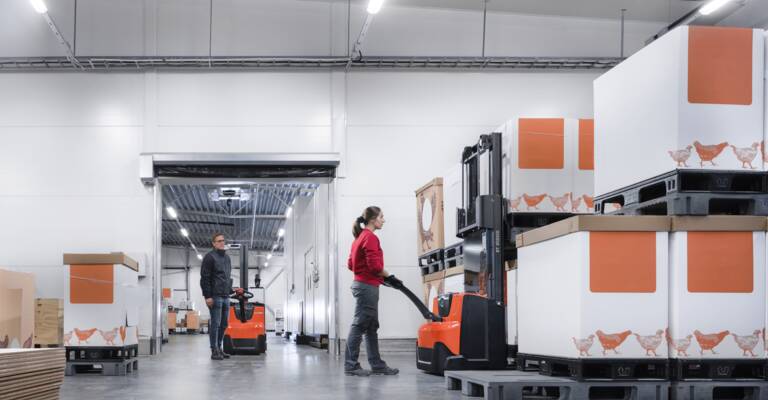 To cover long distances in warehouses: platform powered stackers
Stacker trucks with platform are designed for intensive applications and are highly productive when it comes to long-distance travel. This versatile range can reach the highest lift heights, offer great stability and are fast, but the trucks are also compact and manoeuvrable enough for confined spaces. Combined with large energy capacities and high residual capacities, lead-acid or li-ion batteries, these stackers will lift your productivity.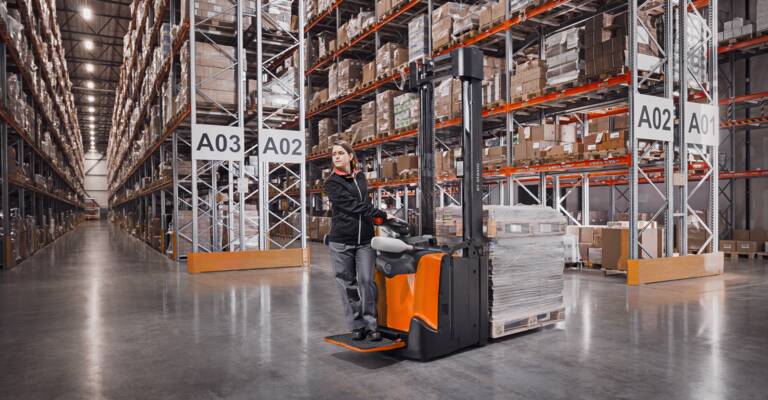 For high-intensity stacking application: stand-in pallet stackers
The high-performance stand-in stackers built around Lithium-ion are perfect for optimised productivity, safety and comfort. These models can support double stacking, block stacking, high speed transport and stacking at elevated height in narrow aisles. These stackers offer great operator comfort and have a very compact chassis, high visibility through the mast and great flexibility without compromising on safety.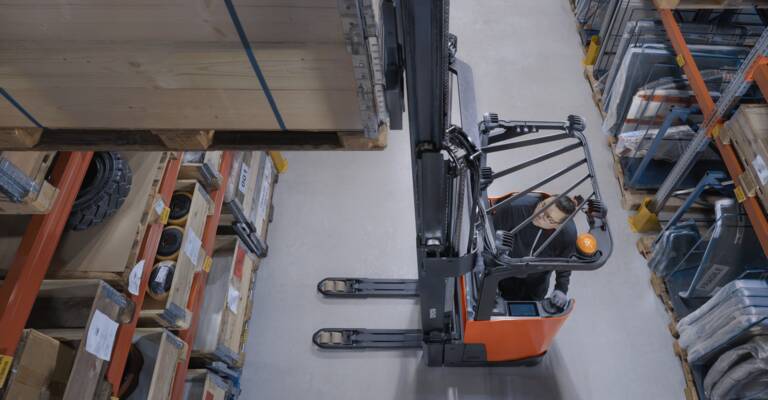 Now that you understand the difference between the stacker categories, finding the right model should become easier. If you need help, reach out to our experts or follow the 6 steps in our pallet stacker guide. Ready to find your perfect match?