Powered stacker trucks are mainly used to transport goods from A to B and load or offload pallets on racking. A lesser-known fact maybe, is the fact that they can also be used for occasional order picking in shops, DIY shops, small production sites or as workstation… How this works? Let us explain.
Elevated forks: the perfect workbench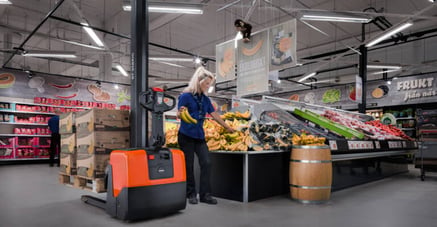 When working alongside the pallet stacker with raised forks it functions as a workstation. It can make tasks such as pricing, packing customer orders, picking goods in store, etc., much easier and ergonomically correct. It reduces operator stress and strain whilst maintaining the proper working height.
Our light-duty model Toyota BT Staxio HWE100 and more performing model Toyota BT Staxio SWE080L are perfect to support workers during the day in small picking operations.
Even better: Automatic fork movement
By adding a photocell sensor on the mast of the Toyota BT Staxio HWE100 or SWE080L stacker, you can work even more ergonomically as the fork height will automatically be adjusted.
What happens:
Automatic lowering of the forks when placing goods on the pallet
Automatic elevating of the forks when taking goods off the load carrier
A stacker equipped with this option is very suitable for occasional picking where the stacker can be used as workstation.
Interested in finding out more about our pedestrian stackers? They are compact, manoeuvrable, can support you throughout the day with transport and stacking tasks, and have the possibility to function as a worktable.