Are you looking for an electric pallet truck? It is not always easy to choose the right truck from an extensive range. That is why we lend you a hand with an overview of the most important questions. Before you buy an electric pallet truck, answer these questions.
What will you be using the truck for?
When choosing, it is good to consider for which applications the truck will be used. In the best case scenario, you also take your future needs into account, so you can be sure that you are buying a truck that will serve you for many years.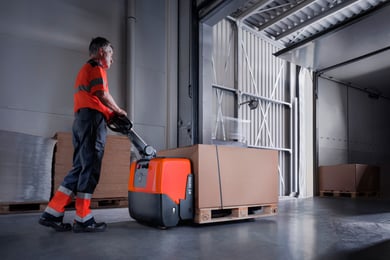 Do you mainly want to use the truck for light applications such as horizontal transport, loading/unloading and order picking? Then you can consider a pedestrian pallet truck. These trucks are easy to use due to the ergonomic steering handle with fingertip control and creep function for manoeuvring in tight spaces.
Are you looking for a pallet truck to transport multiple loads? Then a ride-on pallet truck is a good alternative. They reach speeds of up to 12.5 km/h for fast and efficient transport of loads.
How much space do you have?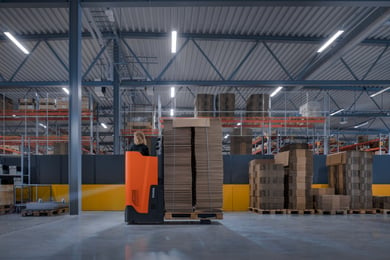 Is the electric pallet truck mainly used in lorries or tight spaces? Then it is best to choose a compact, small and light version.
For more intensive applications or larger warehouses with longer distances, it is better to choose a pallet truck with platform. Stand-in models are also ideal for long distances, as they travel in different directions, allowing the operator to always maintain his position for excellent comfort.
How heavy is the load?
Also take into account the maximum weight that you must be able to lift and choose a lifting capacity that meets your current and future requirements.
When choosing the right lifting capacity, the intensity of use also plays a role. If you are looking for a truck for frequent use in a very intensive environment, you also need a higher lifting capacity so that the truck is more robust and powerful.
Which battery do you need?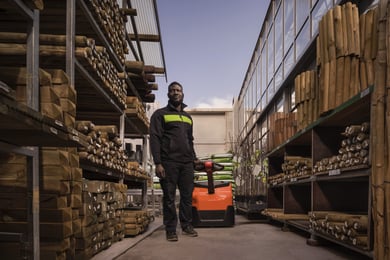 Depending on the model chosen, you can choose from different battery options. Do you opt for an ordinary lead-acid battery or a lithium-ion battery? The latter are fully integrated with the truck and offer even more benefits and energy savings.
Which wheels do you need?
Your pallet truck needs the right parts to perform optimally. As for the wheels, the choice depends on the application and the environment where the truck will be driven. We have wheels in different materials to meet your needs. You can choose from single or double wheels, different materials and different wheel types depending on the use of the pallet truck.
Do you need additional options?
After you have chosen the truck and model, you may opt for certain options or additions to fully personalise your truck. Think, for example, of a handle with creep speed function, a load backrest or writing table to improve performance or safety.