Reach trucks have been developed for high intensity handling with stacking at high lift heights and long horizontal transports. They are versatile trucks, mainly intended for indoor handling and they can handle all existing pallet types and other load carrier types. These forklift trucks are very often used in multi-shift operations, which sets high demands on reliability and on good ergonomics.
A common application is the daily goods distribution in large warehouse centres, where the machines can be used to transport goods from a buffer area on the loading bay or a conveyer to a rack for buffer storage. Block stacking or handling of frozen goods is also very common in daily goods handling and can be perfectly managed by a reach truck. They are also suitable for load handling the manufacturing industry, where the loads are heavy.
The range of usage is very wide, so which reach truck from Toyota would suit best your application? Let's have a look at our reach truck types.
Excellent at lifting heavy loads to high heights: high-performance reach trucks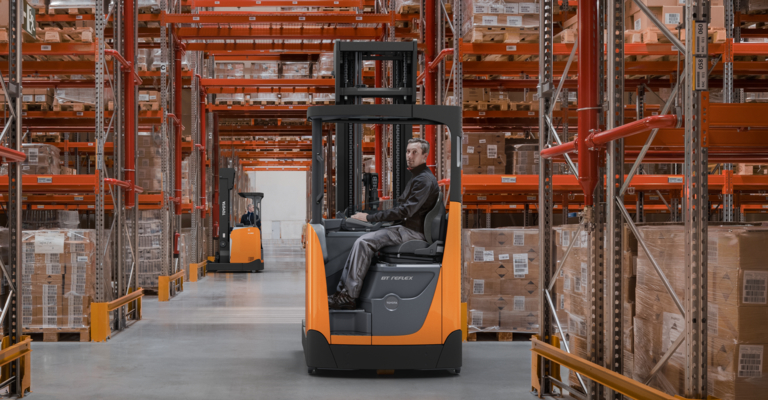 The Toyota BT Reflex R-series reach trucks are designed for great performance at height. Excellent visibility around and to the load and great driver ergonomics lead to maximum productivity without compromising safety for the driver. These machines can offer high residual capacities and this up to 13 m. The range can be fitted with many options and attachments to increase efficiency even further. The Toyota BT Reflex E-series with titling cab version, unique to Toyota, is designed to reduce the risk of strain for the driver in repetitive high-level applications.
Typical industries and/or applications:
Daily goods distribution centres

Manufacturing industry

Stacking of pallets in racking
Available with weather protection: reach trucks for in-and outdoor use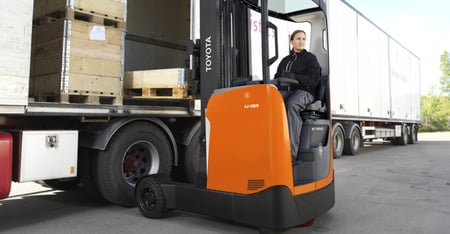 These trucks are designed and built for complete versatility. The O-series reach trucks from Toyota are fit for indoor as well as outdoor use thanks to the durable wheels and high ground clearance. For driver comfort, different weather protection options are available.
Typical industries and/or applications:
block stacking in yards

servicing outdoor racking

DIY shops, farming and dairy industry

can also be found at traditional reach truck sites where it is used in combined operations, for example for loading/unloading transport vehicles and for stacking/retrieving goods both indoor & outdoor.
Ready for the cold: cold store reach trucks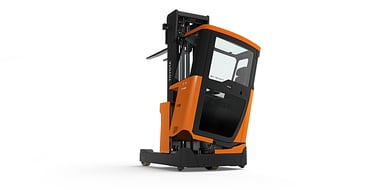 The dedicated cold store reach trucks from Toyota are designed to work in temperatures as low as -30°. The heated closed cab option will keep the operators warm and healthy, helping them to stay productive throughout the shift. In combination with the lithium-ion battery with heater, the truck can also be charged within the cold store area during breaks. Offering high efficiency, while eliminating the need for battery exchange and condensation problems. The chargers need to be placed in a warmer area within or outside the cold store.
Typical industries and/or applications:
Distribution centres for frozen goods

Chilled or frozen goods handling in daily goods distribution

Stacking of pallets in racking



When things get really tight: narrow chassis reach trucks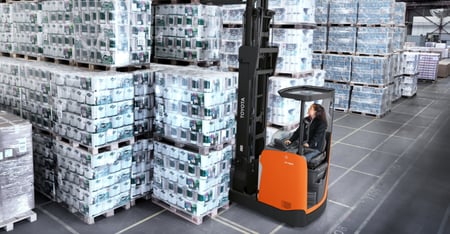 Designed and built for applications requiring a narrow chassis width, or for work in tight situations, the Toyota BT Reflex N-series with only 1120 mm truck width and ability to handle 800 mm pallet between the support arms, is perfect for the job.
Typical industries and/or applications:
Block stacking

Drive-in racking
For low-intensive use: simply effective reach trucks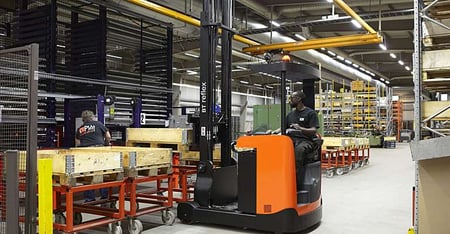 Some reach truck applications require a straightforward approach, a truck that is simply effective. For low-intensity applications, the Toyota BT Reflex B-series reach trucks are an easy-to-use, practical solution particularly suited to drivers that have many tasks to deal with during their working day.
Typical industries and/or applications:
Daily goods distribution centres

Manufacturing industry

Stacking of pallets in racking
So when considering a reach truck, know that there are many types, each with their specific features and applications. The quality, comfort and performance level is high on all Toyota reach trucks. They are all available with energy-efficient lithium-ion battery solutions allowing cost saving and almost continuous operation. For advice on your specific needs, contact us.