As e-commerce volumes rise across Europe, labour shortage increases and the ongoing need to improve warehouse and production efficiency intensifies. Automation can seem like the solution for all logistical problems. Logistics industry has spent decades looking towards new technologies to help improve efficiencies, boost productivity and eliminate the risk of human error.
A recent McKinsey article on the topic suggests the emergence of a new logistics paradigm which will see many operations automated by 2030, as artificial intelligence takes over the repetitive activities that warehouse operatives have to perform. It predicts an industry in which we will see fully-automated high-rack warehouses and autonomous forklifts navigating the aisles.
However, the decision to automate your material handling processes is not as simple as the solution itself. To be successful, it must be based around an individual business case. How many tasks are repetitive and could benefit from automation? In which areas are skills shortages or employee retention an issue? Where is time being wasted in your operation? What is your overall automation goal? To help you consider these factors, this blog post lists five ways automation – through the use of automated guided vehicles (AGV) from Toyota - could benefit your warehouse operation and solve some of these challenges.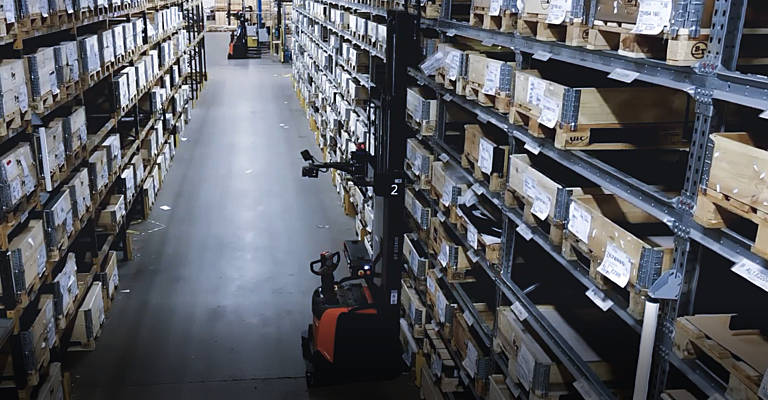 1. Supporting business growth
Companies looking to grow their business and increase throughput often turn to automation as a solution. Not only is technology such as AGVs easier to implement than ever, and widely more available, they are proven in many circumstances to help businesses increase productivity along with an attractive return on investment.
2. Bridging the labour gap
Retaining warehouse staff can be a challenge for logistics businesses. Warehouse jobs can be repetitive, demanding and stressful, with lots of movements to cover over short to long distances. By using automation in areas of repetitive work, employees can be freed up to perform other added-value tasks, which will be more motivational and opens up for new job opportunities. This will increase staff morale. AGVs can also present several new career opportunities in the field of maintenance.
3. Reducing costs
AGVs can reduce costs by working day, night and weekends, without a wage or overtime payments. This improves just-in-time logistics operations, which in turn, reduces costs and stock levels. It also creates a leaner operation, enabling your business to reduce waste and increase the throughput of stock leaving the warehouse.
Additionally, AGVs can help businesses that are looking to find new ways to lower the costs caused by accidental site damage, labour and health & safety. Damage to loads and infrastructure, along with health & safety issues are reduced, thanks to scanners and sensors utilised by AGVs to manoeuvre with high levels of precision.
4. Lowering the risk of accidents
Employees can be vulnerable to the risk of workplace incidents due to the busy environment in which they operate, where forklifts and workers pass each other regularly and the opportunity for collisions and damage is high.
Our range of automated trucks are designed with safety in mind. AGVs can replace manual trucks, which reduces the likelihood of workplace incidents. Toyota's automated vehicles are equipped with safety scanners that continually look for hazards in the environment they operate. Upon detecting a potential hazard, an AGV will automatically stop to avoid collision.
5. Improved sustainability
Companies looking to move towards making their sites more environmentally friendly can benefit significantly by using automated guided vehicles. Their efficiency and smooth driving behaviour mean that automated trucks contribute to reduced waste and require lower energy consumption than traditional fuel sources.
Furthermore, advancements in lithium-ion battery technology mean that battery charging rooms are no longer required for AGVs. Instead, charging can be done automatically and the batteries themselves save 30% more energy compared to alternative power sources. As AGVs can be used at night and in total darkness, the costs for using electricity and heating warehouses can also be reduced.
Of course, while AGVs present several business benefits, they are not always the answer to all of your warehousing problems. It may be the case that non-repetitive tasks are not so easy or economical to automate, which is why we always advocate a combination of automated machines supporting skilled humans in their work. It is also a good idea to consider applying some lean thinking before attempting to automate areas with high traffic volumes, for enhanced safety.
Whatever your business case for automation, together we can define the best solution for your needs. Our specialists have experience and high-quality solutions covering everything from automation to fleet management, racking, forklifts and tow tractors, and more. If you have a challenge, we can solve it together!