As engine-powered counterbalance forklifts are fit to handle intense applications, it's important for drivers to stay comfortable while driving. That's why the new Toyota Tonero range is not only equipped to comply with the Stage V EU emission regulations, but also offers a new level of comfort on the hydrostatic models.

Low noise and vibrations
The full-floating driver cabin on the models with hydrostatic transmission offers drivers the perfect balance for comfort: robust to handle intensive applications, while comfortable to adapt to each driver. With the cabin now completely separated from the chassis, the specially designed hydraulic damping system absorbs all shocks and vibrations coming in. This way drivers don't need to experience excessive noise or movements, for optimal comfort.
Easy braking
Hydrostatic drive allows drivers to brake, without using the brakes, but just by simply letting go of the gas pedal, for automatic deceleration. The high brake capacity allows drivers to stop precisely in the perfect spot without too much effort. It also makes the truck very predictable and powerful in braking, whether the driver is operating with or without a load, offering optimal control when carrying a fragile load. As a result, making loading and unloading of lorries up to 20% more productive.
Comfort cabin
Drivers can choose between two types of cabins: comfort cabin or deluxe cabin. Don't be misled by the name: even the comfort cabin offers low noise, low vibrations, easy car-like design, built-in heater, and extra comfort with the high overhead guard height. Does your work involve loading and unloading in containers? We got your back. The cabin is also available in a more compact container size height, while still offering maximum comfort. Working often in warmer temperatures? The deluxe cabin is available with air conditioning, to keep you cool at all times.
For each driving style
Thanks to the in-house produced software, the parameters on the truck can be adapted quickly and easily. The software determines the acceleration, brake performance, overall reaction of the truck and the total driver experience. As a driver, you may prefer slower or faster deceleration or brake performance, depending on your application and the rules to comply with in your country. You have the option to choose between 4 pre-set modes which can be adapted to each driving style.
Easy
display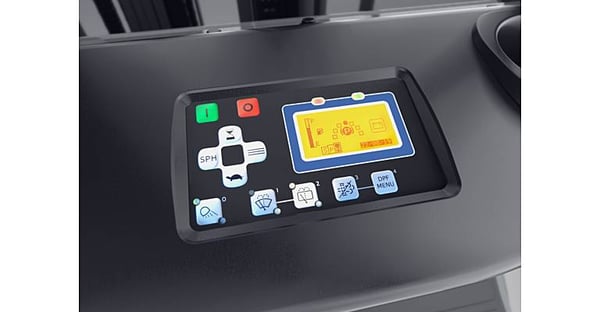 An easy overview of all indicators can be found on the display. Drivers can check speed setting, weight indicator, pre-set driving parameters and much more in one go.