Pedestrian stackers come in a wide variety of models and are a great tool when goods need to be lifted and stored at heights up to 6 m. They are compact, highly manoeuvrable, and intuitive to use. When to consider making the switch to a model with platform or a stand-in version? Following factors could help you make that choice. 
Would you like to boost productivity?  
When using walkie trucks to move products around, of course, the machine can only go as fast as the operator. If the intensity of your application is growing or you want to increase productivity of certain logistics activities, a truck with platform could be a solution. Speed ranges between 6 km/h and 10 km/h.  Time saving will be highest when longer distances are to be covered.  
If you're concerned about the space needed for a truck with platform, you should know that the Toyota BT Staxio platform trucks comes with a flip-up platform, easily raised by the driver when working in confined spaces, and just as easily lowered to speed up again. Also, the narrow stand-in models give you a compact alternative. 
If productivity isn't your main concern, what about the comfort of your drivers?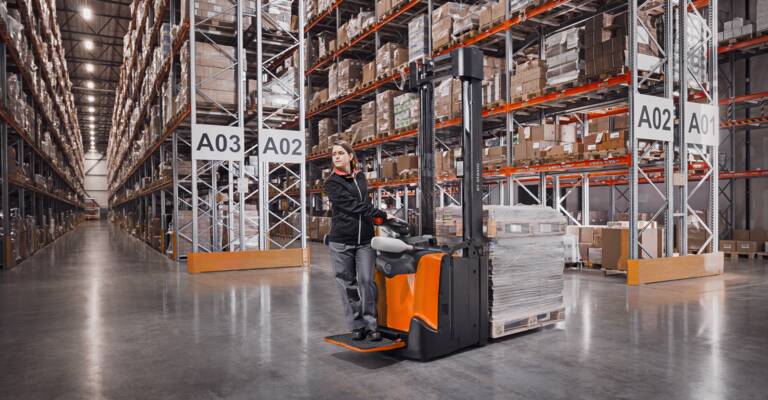 Is improving safety on your company's agenda? 
You're thinking: a rider pallet stacker will go faster, so how can it be safer than a pedestrian stacker? Walkie pallet stackers like the BT Staxio W-series only go as fast as the operator goes but operators can sometimes be exposed to their surroundings. The Toyota BT Staxio P-series with platform and the stand-in S-series come with a lot of features and functions to protect the driver.  Firstly, the operators stand higher and have a better overall visibility. Depending on your or your driver's preference, you can also configure the stacker for more protection: 
Foldable gates to support the driver while standing on the platform

 

 

Fixed side guards or back protection on the platform trucks to protect the driver

  

 

Protective operator compartment wrapped around the operator on the stand-in pallet stacker range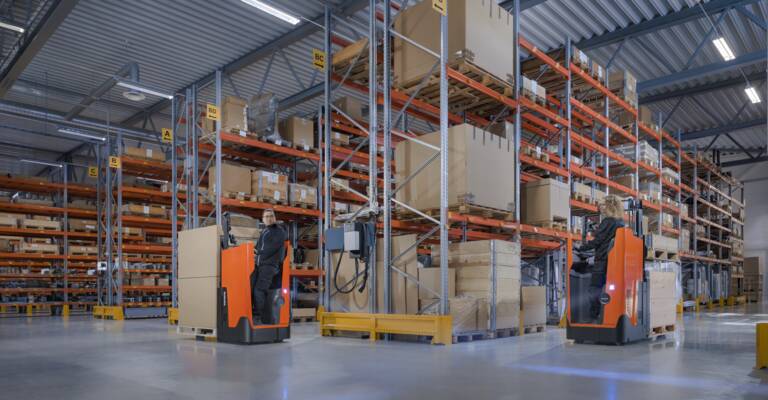 Do you aspire less stressful working conditions for your drivers? 
Walking and operating a pedestrian pallet stacker requires some effort. A stand-in version will reduce the driver's fatigue, especially when longer distances are covered with the machine.  Rider stackers also provide enhanced ergonomics, especially the stand-in BT Staxio S-series with its comfortable armrest, backrest and easy-to-reach controls.   
An operator who feels safe and has the best ergonomic working conditions available on a stacker will be a lot more productive. Convinced to step up and go for a platform or stand-in stacker? Reach out to our advisors to help you find the right model or consult our guide.