Nowadays, more and more companies are going all-in on sustainability. Toyota Material Handling is no different and aims to contribute to a zero-carbon society. Our target is to reach zero emissions from our own operations by 2030 and zero emissions across our entire value chain by 2050. We are switching to renewable electricity and gas all across Europe. At Toyota Material Handling Norway, they decided to add the first electric service van to their fleet as part of their sustainability journey and thus contribute to the zero-carbon strategy.
The fleet of plug-in electric vehicles in Norway is one of the largest in the world. The Norwegian parliament has decided that by 2025 all new cars should be zero-emission vehicles. It didn't take our service team in Norway long to decide to test the first electric Toyota Proace in their service fleet.
Driving into an electric future
Why did Toyota Material Handling Norway switch to electric service vans?
'We wanted to be the first one and show the market and our technicians that we want to take care of the environment. It's important to show that we are engaging and taking our responsibility regarding our company's goal for Zero Muda. We aim to ensure that every employee is tooled up and empowered to contribute to our strategy – No more waiting or waste through a seamless flow of goods and data. We hope to set an example for other markets,' says Lars Rune Johansen, Service Manager at Toyota Material Handling Norway.
How many tonnes of CO2 will your fleet save once all service vans are converted to electric latest in 2030?
'In fiscal year '21 we produced 760 tonnes of CO2 with our service fleet, that is 75,1% of our total CO2 emissions. If we consider 100% electricity-powered vehicles in 2030, we'll save all of that. We have the ambition to switch as many fossil-fuel vans as possible to electric vans in Norway, but we need to take in consideration the charging possibilities and long driving distances in certain districts. In the future, this will be better and battery technology is also developing fast, so it is possible.'
Will the whole fleet be swapped for electric service vans? Where do you see this evolution going over the years?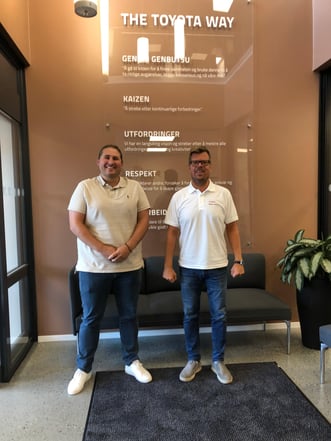 'At the moment it's not possible to have all our 160+ vans swapped for electric ones. We have a lot of technicians in a widespread area with a limited amount of charging stations. When the work distance is shorter, for example in a city, going electric is a great choice, but for the locations further away, charging is not yet possible everywhere,' Lars Rune (right in the picture) says, 'We want to do so, but we are facing infrastructural limitations in rural areas. At some locations we still lack the possibility to charge, we hope this will change in the future. Step by step we will get there, and other technicians are already showing lots of interest towards the electric Proace, this is why we decided to invest in 3 more electric Proace vans,' adds Mathias Haeger (left in the picture), Marketing Manager at Toyota Material Handling Norway.
How does the government support electric cars/vans?
'They do give support for going electric: they lower our taxes and it's also cheaper to buy electric cars or vans compared to those powered by fossil fuel. Also, in Norway, the electricity is not that expensive, so it doesn't affect our electricity bill.'
How does this contribute to your service fleet's vision and Toyota Material Handling Europe's vision?
'Part of the company's strategy is Zero Muda, which means zero waste. We want to be part of that journey and set an example for other countries to follow. This is just one of the steps towards that goal.'
'In 2020, emissions from service vans generated more than 50% of CO2 emissions from all the company's operations in Europe. If the pilot in Norway is successful, it can accelerate the switch to electric vans across Europe. It has the potential to save 14,000 tonnes of CO2 emissions every year. Toyota Material Handling is currently committed to achieving net-zero emissions from its operations by 2030,' adds Tom Schalenbourg, Sustainable Development Director at Toyota Material Handling Europe.
How do you make sure your fleet is charged with renewable electricity? You have 100% renewable electricity at the company, but how do you ensure this externally or at home?
'Almost all electricity in the country of Norway comes from renewable (water and wind) sources. When service vans are charged at our locations, they will be charged with renewable energy. Across Norway, we have a contract that says we can buy 100% renewable energy backed up with Guarantees of Origin. When the vans are charged at home or on the road at public quick chargers, we cannot check the origin of the electricity,' says Lars Rune.
Tested and approved by our service technician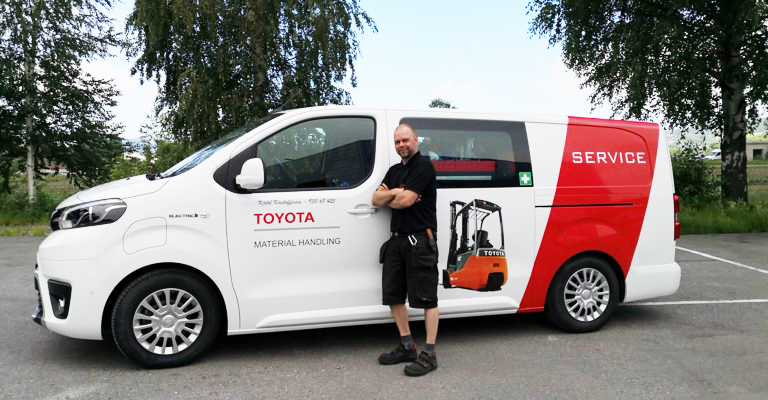 Our Electric Proace is not only very eco-minded, it was also designed to drive far and wide. A fully charged Toyota Proace can get you up to 280 to 300 kms away from home during summer and 250 to 260 kms during wintertimes. We asked the first electric Proace service driver about his experience:
Kjetil, you are the first technician to drive the electric Toyota Proace – what do you think of it?
'Yes, I'm very happy to have the chance to drive an electric van. I'm an auto mechanic by trade and I used to fix my own cars. I was tired of all the maintenance and that is when my interest in electric cars started. It has very little maintenance and in Norway, an electric car is not something new. I already have two electric cars and am used to driving electric, I wouldn't want to switch back,' Kjetil Kristoffersen (picture above), Service technician Toyota Material Handling Norway.
How long can you drive with a fully charged electric van? And how long does it take to charge?
'On a normal working day, I drive between 80 – 250km. When I get home, I plug in the van and program it to charge at night. If the van is completely empty it takes up to 6 hours to charge with a normal charger. You can use superchargers that take only half an hour to charge up to 80%, but I usually have enough energy left when I get home.'
Do you notice a difference when driving your electric van? Do you think it has any benefits?
'Timewise there is not really a difference, of course I don't have to get fuel anymore, I just charge my van at home and it is ready to go in the morning. Electric cars and vans are also very cheap to charge, here in Norway. Comfort-wise I see a difference: the car heats up much faster, during our cold winter this is much appreciated. Before, I used to have a diesel heater to warm up during winter. The electric van is also very quiet, so it doesn't make much noise. And although I love a good car noise, when working I prefer to have it quiet. One downside is that you can't tow as much as with a regular Proace, but that is the only downside.'
Do you have some tips for other people who want to invest in electric vans?
'Define why and where you would use them. If they're not needed for long distances and your country has charging stations, then it's the perfect investment. I do suggest taking the biggest battery available, I think you will be very pleased with the van.'