It is sometimes difficult to judge whether a powered stacker truck or a reach truck will be the best option for lifting pallets at your warehouse or manufacturing site. Both can do the job, so wherein lies the difference? Let us take a closer look at the features and use of the truck.
Application: where can these forklifts be used
In essence, they can both be used for the same applications, i.e. lifting and transporting pallets, but the differences lie in the flexibility, capabilities, ergonomics, size and manoeuvrability.
Pallet stackers

Reach trucks

Tiller arm steering and compact chassis for easy manoeuvrability in tight areas

Steering wheel, foot pedals and direction switch for high manoeuvrability

For aisle widths of 2200-2500 mm

For aisle widths of 2800-3000 mm

Load weights up to 2000 kg

Load weights up to 2500 kg

Stationary mast with fork carriage, mainly for open pallet handling

Retractable mast with tiltable forks for open & closed pallet handling

Standing or pedestrian operator

Manufacturing

DIY stores

Smaller warehouses and high density racking

Distribution centres

Manufacturing plants

Large warehouses
Productivity: how to make the best use of the truck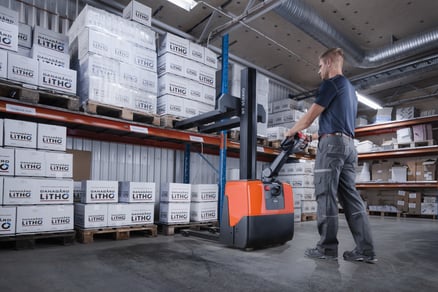 The Toyota stacker range is a wide range with many different models such as low-intensity pedestrian stackers for occasional stacking, walkie stackers with short turning radius, platform stackers and stand-in pallet stackers for higher speed (up to 10 km/h). Productivity and comfort increase when going from pedestrian to platform or stand-in models. Most of the Toyota reach trucks are designed for high-speed operation (up to 14 km/h) and intensive work. With the comfortable operator cab, good all-round view and easy steering, these machines support the drivers to keep productivity high during the entire shift.
High level of comfort in different applications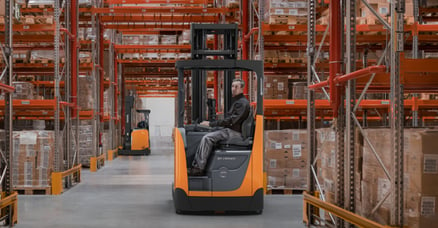 Not every application requires the same level of comfort. If you only need to stack a few pallets a day, a simple walkie pallet stacker will do. However, for long shifts and frequent lifting at elevated height, a driver deserves better comfort. Intuitive controls, high-comfort seating, adjustable operator compartment according to the driver's posture make Toyota BT Reflex reach trucks the better choice for highly intensive work during multiple shifts. A wide choice of options to facilitate the tasks of the drivers when working at height are available, like fork cameras, height indicators, etc. can make you opt for these machines.
Ever heard of a stacker with retractable mast?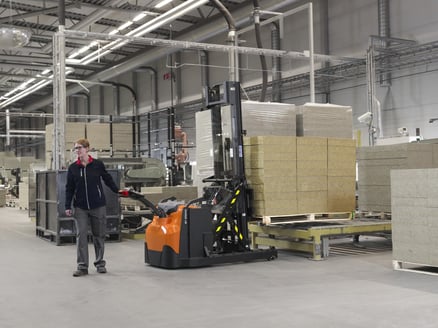 What if you need the flexibility of a reach truck and the compactness of a stacker? Then the Toyota stacker with retractable and tiltable mast might be the perfect machine for you.
Able to stack, transport and (un)load from a closed conveyor belt, these flexible machines offer high versatility in use.
Now that you have a clearer idea of what material handling equipment would fit your stacking application, explore our reach trucks or find the right stacker model with our guide.